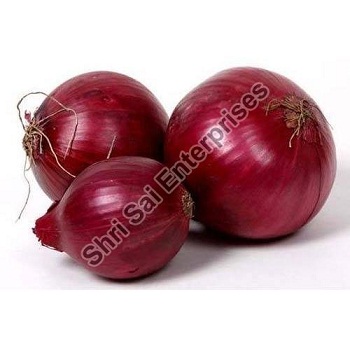 Shri Sai Enterprises is the top pioneer traders, suppliers of fresh natural red onions and peeled garlic of high-grade quality. The company is located in Ratlam, Madhya Pradesh. The company was incorporated in 2019. From that year company commenced delivering best-in-class fresh onions and garlic that excel in freshness and aroma. Their entire team has assembled sufficient knowledge in the field of edible products and has henceforth garnered ample experience in forming a team of highly professional experts and specialists. Ever since their establishment, they have always aimed hard to supply premium quality onions and garlic all of which are carefully screened from the top manufacturers of the city. They are leading natural red onion wholesalers in India.
To ensure each of their products is completely safe and free from chemicals, they ensure to source them only from the dedicated set of farmers who grow the products under safe and germfree conditions, without the employ of poisonous fertilizers and pesticides. Before supplying the products to your doorstep, their quality personnel make each of their products under a strict quality check based on multiple parameters. Aiming for optimal customer satisfaction, they always guarantee excellent customer support services from our end and delivery within the stipulated time. Just add some of our fresh onions and garlic to any of your favourite cuisines and watch them get tastier.
Red Onion
Red onions (also known as purple onions in some European countries) are farmers of the onion (Allium cepa) and have purplish-red skin and white flesh tinged with red. They are most typically employed in the culinary arts; however, the skin of the red onion has also been well used as a dye
These onions size tend to be medium to large in size and have stinging flavour and eye-watering qualities. They are usually consumed raw (and can be added to salads for colour and bite), grilled, or lightly cooked with other foods. Red onions are available throughout the year and are high in flavonoids and fibre (compared to white and yellow onions) Cut red onions can be soaked in cool water for a course of time, and the water can be depleted off, ensuring in less "bite" and pungency.
Benefits of Red Onion-
Onions are one of the most famous vegetables all over the world. While most children dislike their pungent and biting flavour, most adults embrace and use them regularly. Red onions enclose double as many antioxidants as any other form of onion making them a authorative part of an anti-inflammatory diet and lifestyle. Some benefits of Red Onion are
Rich In Antioxidants Phytonutrients
Red Onions are also a rich source of flavonoid antioxidant anthocyanin. These antioxidants avert the oxidation of dietary and cellular fatty acids. They are very powerful free radical scavengers that neutralize cancer cells growth and dramatically reduce whole-body inflammation.
Red Onions are Rich in Chromium
Red Onions are also a fantastic source of chromium which lowers diabetes and enhances cellular insulin sensitivity. Nearly 50% of the US population is deficient in chromium which is greater than any other developed nation. This is because of the over cropping that has stripped the land of chromium and processed food usage. Chromium deficiencies results in diabetes and heart disease.
Treatment for Heart Ailments
Onions aid in thinning of the blood, which in turn prevents the red blood cells form clumps. These blocks could lead to heart disorder.
Good Oral Health
Onions are often used to avert tooth decay and oral infections. Chewing raw onions for 2-3 minutes could possibly kill all the germs prevent in the mouth area.
Glowing Skin:
Onion juice mixed with honey or olive oil is said to be the best treatment for acne conditions.