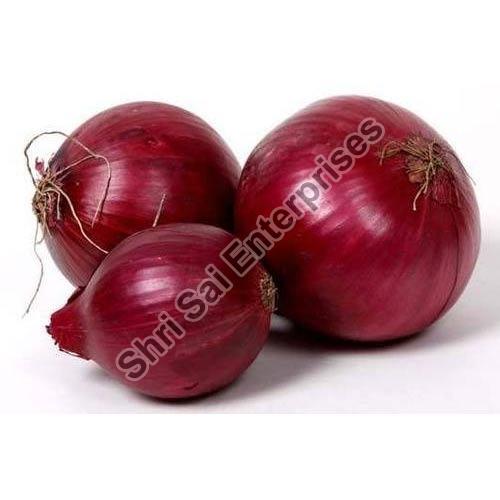 Onion is a humble root-vegetable that is cultivated worldwide. Usually, bulb-shaped but varies in color and size depending on the type of onion. Onions are considered the most versatile culinary ingredient that can be used in a variety of forms. You can consume onions by roasting, grilling, frying, caramelizing, or even as raw either chopped or sliced.
There are many varieties of onions available in the market and red onion is the sweetest among the onions. Natural red onion is mild and less pungent to make them ideal for eating raw. This variety of onions is a good choice for roasting or grilling due to its sweetness. It has a deep magenta color, which makes them particularly good additions to salads. This gives a splash of color that enhances the appearance of the dish.
Some popular culinary uses of red onions-
Topping: A thick slice of red onion either raw or roasted on a burger, hotdog, or sandwich is bliss. It adds a unique texture, crunch, and yummy flavor to your any-time snacks.
Salad: Red onions can turn your typical boring salad into a mouthwatering side dish. Combine the diced onions with cucumber, tomato, lettuce, macaroni, and any of your favorite vegetables. Also, you can toss them with chickpeas or sprouts to make a perfect chakhna for your next house party.
Pasta sauce: Fresh tomatoes and natural red onions are great for making sweet and savory pasta sauce.
Curries: Thanks to the natural sweetness of red onions which makes them a perfect companion for making curries or gravies. Roast and grind them with tomatoes or cashews and mix them with curd to make a quick gravy.
Pickled onions: You can easily make pickled onions by using a red onion, water, vinegar, and salt in just a few minutes. These onions can be kept in a fridge that lasts around 7 days. They are considered great accompaniments to several Indian dishes and are often served by most restaurants. You can use them in tacos, kulcha, and many other dishes.
Just add some red onions to any of your favorite cuisines and watch them get tastier.
Red Onions are loaded with sulphur, potassium, calcium, fiber, vitamins B, and C, folate, and antioxidants. They are popular for their low cholesterol, fat, and sodium content. There are several benefits of including natural red onions in your daily routine. Some of them are as follows-
Consumption of red onions helps in reducing the levels of blood pressure among people. This is due to the presence of flavonoids that have a significant role in increasing blood circulation.
They are a rich source of antioxidants and quercetin which helps in reducing the levels of cholesterol and triglycerides. Thus, they help in reducing the risk of sudden strokes and other heart diseases.
Onions are extremely good for promoting hair growth due to the high content of sulphur. It helps in improving blood circulation to the scalp and enhances the growth of hair follicles.
It also has antibacterial properties which help in maintaining good oral health. It aids in fighting against bacteria causing bad breath, tooth decay, cavities, and other dental problems.
If you want to reap all these benefits then choose the leading natural red onion wholesaler. It also allows retailers to purchase in bulk at affordable prices.
Some of the crucial aspects that need to be taken care of by the providers of natural red onion are-
They should carefully hand-pick red onions from the top manufacturers in the industry.
They should ensure that each bag of red onion is completely safe and free from pesticides and chemicals.
They should have a dedicated team of quality experts who ensure that supplied red onions are produced naturally and free from any defect.
They should make sure each product is under a strict quality check based on multiple parameters before delivering the products.
They should guarantee excellent customer service by delivering the products within the prescribed period.
Thus, look for a natural red onion wholesaler to get onions that are grown using natural methods of cultivation. The onion market is huge as with all its popularity it has become a staple in every household.